Article: How to Dress for Skiing
We can't tell you how many calls we receive with questions about how to dress for an upcoming ski trip. So here is a super basic, simple guide to help you dress for success on the slopes.
1. Start with undergarments and socks. We recommend a sports bra, comfortable seamless underwear (we like our ski pants fitted!) and a pair of Merino wool ski socks. Regular socks don't cut it. Invest in a high quality Merino sock that comes up to just under your knee. Synthetics are not as ideal in this situation. Merino will keep you perfectly warm and also help eliminate odors.
2. Layer a pair of our Peri leggings over your socks. Attempting to put your socks on after your leggings just leads to trouble and sock slippage. Plus you will be après ski ready as soon as you peel off your ski pants at the end of the day. 
3. Next comes your extra fine Merino ski sweater. Ours our designed to be worn next to skin with a super soft high performance yarn. Merino is Mother Nature's technical fiber. Moisture will wick away from your body, you will be stink free throughout the day and enjoy the natural climate controlling benefits of this miracle fiber. On a very cold day you can layer a thin Merino crewneck top under your sweater or a fleece on top to add an extra layer of insulation, but trust us, the sweater alone is all you need on most days. In this case, less is more and you should trust that these garments will perform for you. We highly recommend that you tuck your sweater into your pants for seamless and secure coverage. Not fun ending up with snow up your back or down your pants. Luckily our sweaters are designed for tucking.
4. On goes the pants. Here is where we get asked the most questions from our customers. Pants are very personal to your skiing style and conditions. We find ourselves working our quads quite a bit while skiing and prioritize stretch, breathability and of course fit above most other factors. This is especially true on groomer days or lots of bump runs when your legs are warming up on every run. Our team favorite is either our Phia, Kris or Zola pants over our Peri leggings on 99% of days on the mountain. Powder, exceptionally wet, or exceptionally cold (that's usually anything less than 20°F) days call for waterproof insulated pants and that's when we pull out our Petra pant. Finally on bluebird days and or early / late season we mix in the in-the-boot Jes and Zuma pants. Don't forget that these pants can also be worn out to dinner, on the plane or between ski trips back at home. Everyone should own a pair of Jes pants!
5. Up next is your jacket. All of our Erin Snow jackets are made with high performing dynamic PrimaLoft® recycled insulation. No feathers allowed. This insulation mimics and rivals down in warmth and feel and in fact out performs down in wet conditions. We finish our jackets with breathable, waterproof fabric (also recycled!) that will protect you in any conditions but also adapt and breathe with you when you heat up while skiing. So you stay warm when you need to, but also let off some steam when your heart starts pumping and you're working hard. The goal is to stay dry on the outside and inside.
6. Finally accessories. Even though it might not show off beautiful, long hair we highly recommend a balaclava under your ski helmet. For AW 21-22 we even designed a new ski sweater with a built in balaclava - the Reggie Sweater. Keeping your head warm will keep your entire body warm. Plus chapped cheeks and chins are a nightmare. Cover your head and face at all times! Pull that sucker up over your nose so only your eyes are showing. Throw on a high quality, safe helmet and finish with goggles for a seamless, protected barrier against injury, damage and discomfort. Last but not least come your gloves. Personally we love a mitten with interior finger tip separators. When waiting in the lift line or on the chair you can fist up your hands inside the mittens to warm up. Works beautifully.
If you ever need help or have questions, please give us a ring or send us an email. We are here to help and love to chat about your upcoming ski trips.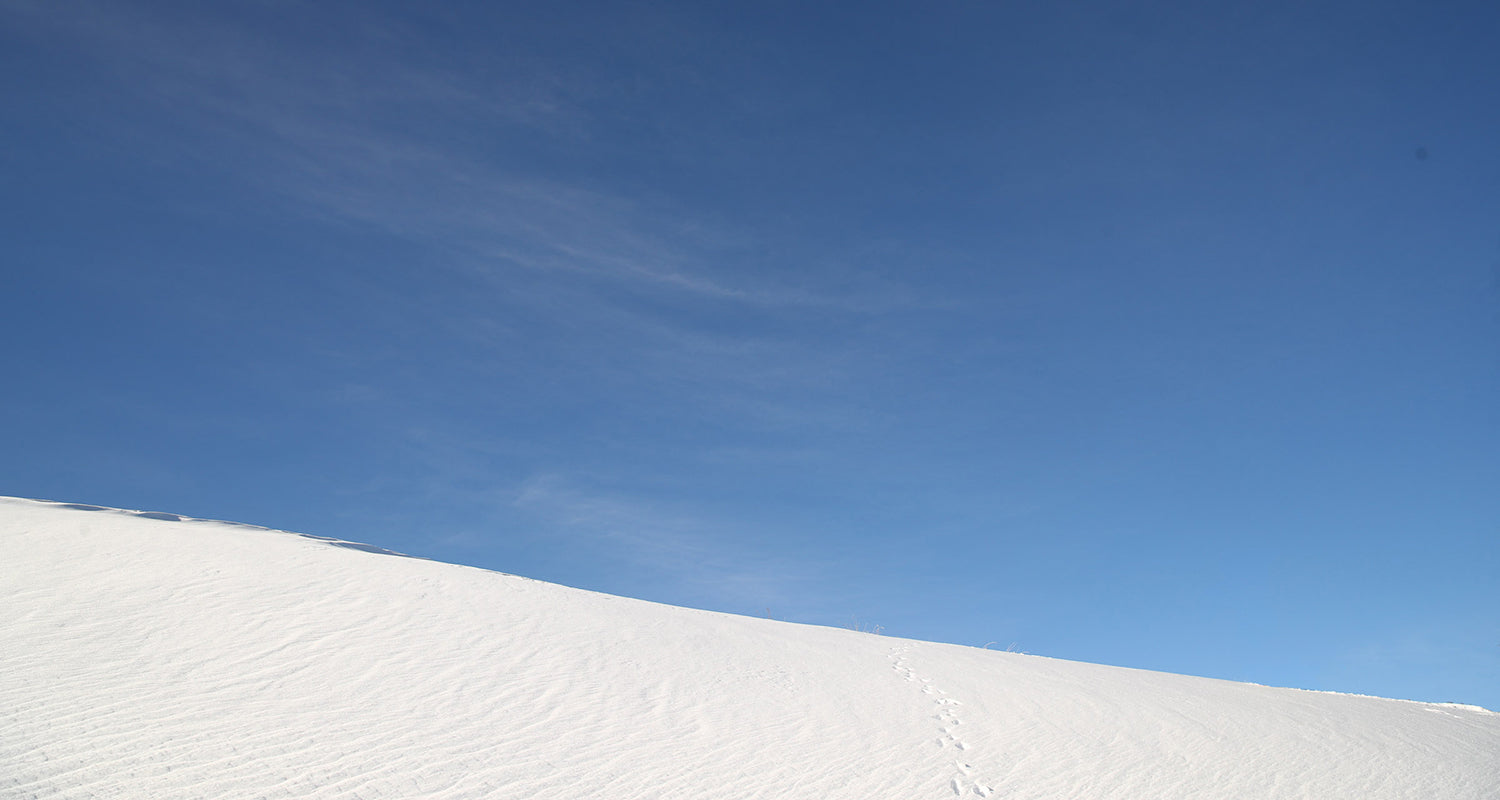 Brand News
Promoting a healthy life outdoors and unplugged. Why our brand is choosing to go dark on social media.
Read more